If you have ever used 5g, you may have experienced some slow or spotty areas over the last couple years . However, 5g technology is expected to spread rapidly throughout the year of 2022 says Verizon and that will have a drastic impact on Voice over Internet Protocol (VoIP) for businesses. 5g improves call speed, has greater capacity, and reduces latency, which makes VoIP calls more reliable and clearer than ever before.
This has the potential to be a huge benefit for businesses that rely on VoIP communications. If you are lookin to stay ahead of the curve, it would be a smart idea to invest in 5G-compaitible VoIP hardware and software. Continue reading to learn more about the benefits 5G has on VoIP communications.
Explore VR and AR:
5G-network speeds will allow more small-medium sized businesses to harness the full capabilities of virtual and augmented reality. This is because 5G's Gbps (gigabits per second) has far greater capacity than that of 4G.
Both VR (Virtual Reality) and AR (Augmented Reality) need to process significantly more data to display high quality visuals and effects in real time, which puts a large strain on mobile networks. 5G is capable of supporting a faster and smoother experience, preventing network delays that can affect your business's bottom line.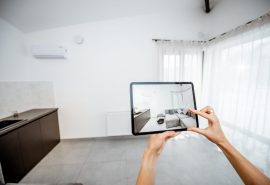 Improved Video Conferencing:
One of the main issues with video conferencing is poor connection and slow data transfer. Fortunately, innovations like Web Real-Time Communication and 5G networks can enhance VoIP for businesses by providing open and stable streaming as well as sufficient transfer speeds. Both of these allow businesses to experience higher-quality videos, even if they are at 4K and 8K resolution
Not only does 5G help with streaming quality, but it also allows for larger video conferences with more participants. This is timely as many businesses are making the transition to hybrid or remote work situations where large video conferences are necessary.
Utilize Mobile VoIP:
VoIP calls typically require adequate download and upload speeds. For example, many mobile VoIP users experience difficulties with poor and unstable connectivity when their 4G networks are limited to 12 Mbps upload and 2 Mbps download speeds. Unstable and slow connection can also lead to packet loss. Packet loss is when the network is congested and one or more of the packets traveling across the network do no reach the final destination. This in return will reduce the quality of audio/video, can cause dropped calls, and lead to an overall poor VoIP experience. However, 5G capabilities can directly solve these issues with the expected increase of 5G technology.
Moreover, 4G network providers set a fixed amount of bandwidth for every direction it transmits a signal to. But unlike 4G, the 5G bandwidth can be adjusted on the fly. This means that 5G network providers can allocate bandwidth to mitigate congestion. In practical terms, businesses could reach their customers even if the latter are in crowded places that normally max out 4G mobile network capacity constraints, like in football stadiums or airports.
With 5G network capabilities expected to increase, now is a perfect time to switch to VoIP and stay ahead of the curve. If you are looking to set up a VoIP system for your business, we recommend getting in touch with our partner, SkyCom today. SkyCom provides Chicago Land businesses with reliable hosted phone systems, built to last.