A Wi-Fi router is a device that is used to organize the information and communication between computer networks. This device mainly operates using IP addresses to locate where the correct information is. If you're currently in the market for a new Wi-Fi router, there are some important features that you should keep in mind when searching for the correct device. There are many different types of routers and they come with different benefits/features that may or may not be useful for what you need. In this blog we provide you with 6 features to consider when choosing a Wi-Fi router.
Bands
When searching for a router, check the box for numbers such as 2.4 Ghz or 5 Ghz. These numbers deal with the transmission frequency and provide different features. 2.4 Ghz travels further but at lower speeds, making it suitable for if your web activities consisting of emailing and searching the internet or anything that doesn't require a quick connection speed.
5 Ghz is closer to the opposite of 2.4 Ghz as it travels a shorter distance at greater speeds. This type is great for video conferencing, gaming, or uploading/downloading heavy media.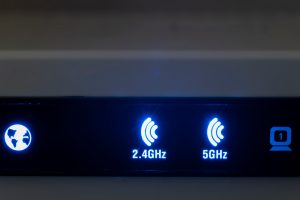 If you need a connection that is able to travel far distances while also performing at high speeds, you might want to consider options such as a dual or tri-band router. This type of router uses both the 2.4 Ghz and 5 Ghz radios to give you the best of both worlds.
Network type
When you look at any router, you'll notice there are different network type options. Also know as Wi-Fi protocols, the four most typical types are 802.11b, 802.11g, 802.11n, 802.11ac. Each of these options has different speeds at which it is capable of transferring data. The fastest of the four options is 802.11ac which also happens to be the most common option as well.
However there is a faster option than the standard 802.11ac option and it utilizes the latest Wi-Fi protocol 802.11ax. This option is typically knows as Wi-Fi 6 and it comes with some great new features:
Greater throughput speeds (up to 9.6 Gbps)
Better range
Reduced network congestion and expanded client capacity thanks to OFDMA
Reduced power consumption by network-connect devices thanks to Target Wake Time (TWT)
Orthogonal Frequency-Divisional Multiple Access (OFDMA) improves your network performance by dividing the Wi-Fi channels into sub-channels. This allows up to 30 users to be using the same channel at the same time.
Target Wake Time (TWT) reduces the amount of power used by connected devices by allowing them to determine when and how often they will wake up to begin sending and receiving data. The benefit of this is that is improves battery life on phones and other devices that are connected to the internet of things such as smart fridges or security devices.
Throughput
The term throughput refers to the measurement of data speeds on your network. A router's throughput refers to the speed that it is supposed to be able to transmit data to users. To spot the router's throughput, look for Mbps (or Gbps for cable Ethernet connections). This is usually one of the first things listed on router boxes and specifications.
Keep in mind that if you have a 100 Mbps internet connection but your router can only deliver up to 80 Mbps, then the total speed of your network will be the lower figure. This is why it would be best to get a router with a higher throughput if your internet service provider delivers faster connections.
Beamforming
Beamforming is the act of directing a wireless signal to point in the direction of a specific receiving device. Rather than having your signal broadcast in all directions, beamforming focuses on directing that signal to a specific point to increase speeds and improve your connections. This is a great option if you are trying to improve the connection quality with devices behind concrete walls or that have a significant amount of signal interference.
Using this type of technology allows a router to determine weaker connections and improve the quality of the connection. While beamforming is an option for all the routers running the different Wi-Fi protocols mentioned above, it is really only useful for 802.11ac or higher. If you don't mind putting a little extra money forward to increase your network performance, then you should consider this feature.
Multiple input, multiple output (MIMO)
MIMO uses multiple antennas connected to the device to increase the overall performance. Using MIMO-enabled routers allows more devices to connect to the router at once with less interference.
When it comes to real-world tests, there is often a slight improvement if the antennas are configured and aimed properly. However, getting a high-end router with six or more antennas may be an unnecessary cost for small businesses.
Quality of service (QoS)
QoS allows the router administrator to limit certain types of traffic. For example, you can use this feature of a router to completely block all torrent traffic or limit it so that other users can have equal bandwidth. Not every router has this ability, but it is a highly beneficial feature for office routers.
There is a lot to consider when selecting the right router for your office but the process doesn't have to be difficult. Get in touch with our experts so we can evaluate your current network needs and help you find the best solution. Click here to chat with an expert.