Windows 11 comes packed with many different features that allows its users to set up a number of customizable preferences to enhance their user experience. Whether it's changing application colors or creating virtual desktops, these features below will help you customize your Windows PC for a better user experience.
Change Your Theme
One of the easiest ways to customize your Windows 11 PC is by changing up your theme. This feature allows you the freedom to add some personality to both your desktop background as well as the lock screen photo. This can be done by right clicking anywhere on the home screen and clicking Personalize. You will then be redirected to the Personalization menu, where you can upload your own images, change through the different background options, and preview different themes.
You can also see more themes online by navigating your way to the Microsoft Store by clicking on "Browse more".
Try Using Dark Mode
If your eyes are light sensitive or you tend to find the screen is too bright, Windows 11 offers a dark mode to help fight an overly bright display. To change our desktop's colors, right click anywhere, select Personalize, and choose colors. Then you will want to select the Dark option located under "Choose your default Windows mode". Doing this changes the colors of your taskbar and the Start menu. If you'd like to change the color of your apps from white to black, select Dark under "Choose your default app mode". To switch the app colors back to normal, select follow the same process but select Light this time.
Use Virtual Desktops
Have you been experiencing difficulty or inconvenience in trying to separate your work files from your personal files? A quick solution to this issue is to create a virtual desktop. To set this up, you can click the Task view icon on the taskbar and all of your windows will be displayed. Simply drag over any windows you'd like to add to the new desktop located in the lower part of the screen and your new virtual desktop will be ready to go!
If you'd like to take this one step further, and divide your work/personal files to even more specific virtual desktops, click the + sign while hovering over the Task view icon. If you'd like to delete a virtual desktop, hover over the Task view icon and click the X button.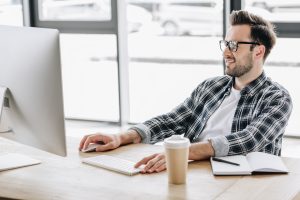 For more information on virtual desktops and some quick keyboard shortcuts to pull them up/remove them, refer to this blog here: Helpful Keyboard Shortcuts for Windows 10 and 11 Users.
Try snap layouts
The snap feature has been around for a little while, however Windows 11 has made it more efficient by allowing you to snap any app or window wherever your are on your PC. To access this feature, hover over your window's maximize button or press the Windows key + Z. For more information on some quick keyboard shortcuts with snap, Click Here.
Restructure your Start Menu
For a more personalized experience on your device, try rearranging your apps on the Start menu. Windows 11 allows your to rearrange your application order by dragging them anywhere around the Start menu. Another helpful tip is to unpin applications that you don't use. This will free up some space and clean up your Start menu a little more.
On the other hand, you can pin your most frequently used apps to the start menu by by right-clicking on the app and choosing Pin to taskbar.
Disable all your notifications
Some people like to receive notifications and some simply don't. If you are one of the people that doesn't like receiving notifications then click the gear icon located on the taskbar to pull up your Settings. From here, choose System > Notifications and switch off any of the notifications for the apps you would no longer like to be bothered by.
Personalize your Windows 11 PC however you like by using some or all of these options. If you want more ways to customize your device or if you need information on anything Windows 11-related, give us a call.