Your data is your business. You use data to develop marketing strategies, make inferences, manage customer relationships, and much more. For this reason, it is crucial to have backups of your data that are easily accessible in the event of a disaster or emergency. Losing this information can be harmful to the health of your company and can leave you inoperative for extended periods of time. We have put together a list of quality backup solutions that you should implement to protect your data.
Tape Drives
Tape drives are one of the oldest backup solutions that are still being utilized today. They are cost effective and modern tape drives can offer a high native storage capacity of 114 terabytes (TB) and 360 TB compressed capacity, which is larger than most hard disk drives.
Tape drives also tend to have a long last life as they can store data for upwards of 30 years while other devices like hard drives tend to be less reliable over the years. Also, tape drives store your data offline, which means that your data will remain protected even in the event of an online attack on your business.
External Hard Drives
An external hard drive is a device that connects to your computer or desktop through the USB port that allows for external data storage. These devices come with different amounts of storage capacity varying from 1 TB to 18 TB.
For smaller businesses who may not be able to afford servers or cloud storage, external hard drives would be a cheaper alternative to back up your data. These devices are portable and will allow you to access your data wherever you go, even if you are not online.
However, it is important that you are regularly updating the backups on your external hard drive to include new files. Also, there is a security risk that comes with using these types of devices. If you happen to lose the external hard drive or it is stolen, you will no longer have access to your data backups.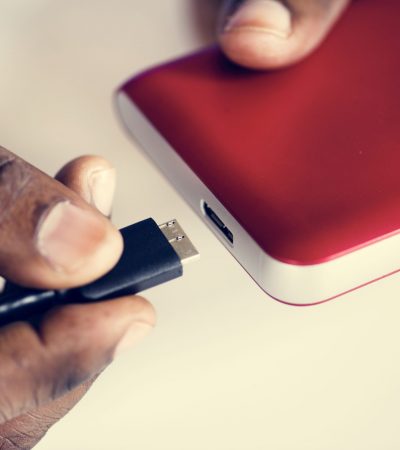 USB Drives
USB drives are a lot smaller and a lot less expensive of a backup solution compared to some external hard drives. However, they do not store as much data, as the newer flash drives have a capacity of about 1 TB. These devices are convenient for storing smaller amounts of data and allow for easy transportation if needed.
USB drives are compatible with both Mac and PC devices as long as there is a USB port available. Also, modern flash drives are capable of transferring data at speeds of up to 4.8 GB per second. This allows you to transfer your data much faster compared to hard drives which have a data transfer rate of about 150 MB per second. As mentioned with external hard drives, these devices are very small and can be easily misplaced. We recommend that businesses invest in the next type of backup solution called cloud storage.
Cloud Storage
Cloud storage allows you to safely back up your data online. Investing in cloud technology cuts back on hardware costs as you will no longer require the physical storage space or the routine hardware maintenance costs. Also, you will be able to access your data wherever you go as long as you have a stable internet connection. This makes file sharing easier, thus facilitating remote and hybrid setups, which have grown in popularity since the start of the pandemic.
If you are concerned about the security of your data, then cloud storage may be the best option for you. Most cloud service providers offer encryption services which only allows users with authorized access to be able to manage or retrieve data. However, it is important to keep in mind that some cloud service providers do not have sufficient security protocols that could lead to exposing your data to cyberthreats. We recommend partnering with a provider that is familiar with data regulation laws and uses the latest technology to defend your data from cyber attacks.
Data backup may seem like a chore, but having copies of your files offline, off premises, or in the cloud will ensure the continuity of your business in the event of a disaster. If your business is looking for help backing up and protecting your data, click here to get in touch with our team of experts today.